The Critical Thinking Co.
offers a huge variety of products and curriculum from pre-K all the way to 12th grade. We have used a few things from them and I have always been very impressed. The company has been around since 1958, and are known for their ability to add critical thinking skills in to their curriculum. This is the philosophy of the president:
One of the new products the crew have been reviewing is
Fun-Time Phonics!
it's designed for Pre K through 2nd grade and includes Critical Thinking and Language Arts skills. It's a non-consumable book and so a great resource for any parent with a child or children that are learning to read.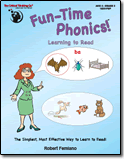 Fun-Time Phonics!
is based on the findings of the National Reading Commission. It includes game-like activities that engage students through listening, thinking, speaking, and reading skills. It explains how print works as a code and then how to figure it out. The pages are bright and colorful and so can be fun for young students. There are 100 activities that you can work through quickly or spread out over a longer time frame. The book is non- consumable and so you can use this for more than one child which makes it really cost efficient. There really isn't any preparation for the teacher, it focuses on vowel patterns and aims for the child to achieve complete phonemic awareness mastery.
The 100 lessons are taught with a spiral approach, because of that it is important not to move on until each lesson has been mastered. I think this is sometimes a difficult concept because of traditional school methods. However, if you are patient and truly wait until till the child knows the material it is so much easier in the long run. That is why this curriculum is a self-paced program you can go as fast or slow as the child needs. When teaching a child to read I have always tried to ensure that they are enjoying the experience. I have never wanted to push reading or turn it into a chore. I find that reading is an experience that a child will learn to love if it's handled this way.
The book would be perfect to use with a young non-reader as it introduces things slowly and methodically. It builds on the students natural speaking skills and then helps them develop auditory skills needed to be a fluent reader. However because it gives the child bright images to look at while working on auditory skills it combines the two senses providing a higher likelihood of success for the child whether they are a struggling reader or excelling.
The 100 activities covered are:
Activities 1-3 - Beginning and Ending Sounds
Activities 4-5 - Rhyming
Activities 6-7 - Putting Sounds Together
Activities 8- 14 - Short Vowel Sounds
Activities 15-19 - Short Vowel Letters
Activities 20-94 - Consonants and Co-Articulation
Activity 95 - Identifying Beginning Letter Pairs
Activity 96 - Co-Articulating Initial Sounds
Activity 97 - Identifying Ending Letters
Activity 98 - Identifying Middle Letters
Activity 99 - Reading First Words
Activity 100 - Reading For Meaning
This book is also the winner of the Tillywig Brain Child Award, 2015. It looks simple to use but effective for the child making it really appealing. Reading is such an essential skill. It really leads all other education. If a child can read they can learn anything and the world is theirs. This program looks like an excellent way to teach reading in a way that promotes joy and a love of reading.
The Schoolhouse Review Crew have reviewed five different products from
The Critical Thinking Co.
The Critical Thinking Co.
has a huge assortment of products. Make sure you click on the link below and check them out. Don't forget to follow the company on social media.
(This review was written by Lisa Maynard, from
Chickens, Bunnies, and Homeschool,
for the Schoolhouse Review Crew.)