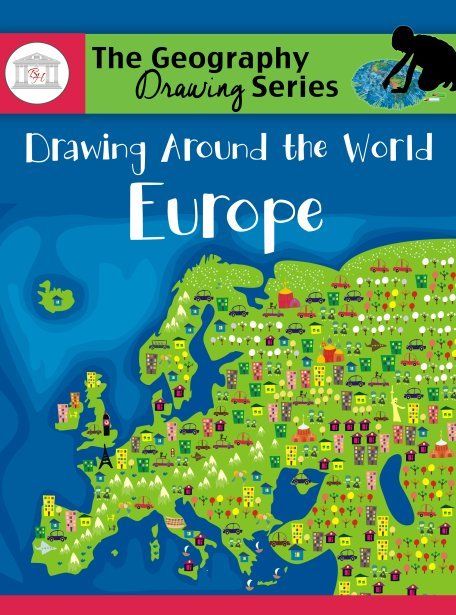 Recently, my family was blessed to receive
Brookdale House's
wonderful geography curriculum,
Drawing Around the World: Europe
. This is an unusual geography program for students in grades 4-12. Rather than just repetitive memorization done over and over, the student engages in creative work each day. This enables him to remember where countries are, what they look like, and a little more about each of them! The curriculum comes in both a softcover book and a PDF form. We received the PDF version for the purposes of review.
WHAT IS BROOKDALE HOUSE?
Brookdale House is a curriculum company that is beloved by many homeschoolers. Their products allow the students to learn inductively in a gentle manner. Brookdale House products include writing, grammar, rhetoric, Bible memorization, handwriting, history, and of course, geography! They even produce foreign language curricula. This geography curriculum is the first book in Brookdale House's "The Geography Drawing Series."
Because their products are created with the child in mind, and enable students to learn the way children naturally do learn, both students and parents find them inviting and very easy to use. Homeschooling parents will love that they are very simple to teach with, as well.
WHAT IS
DRAWING AROUND THE WORLD: EUROPE
?
Drawing Around the World: Europe,
is a 24-week geography curriculum that teaches children to draw European countries, and learn some of the major information about each one. As they study and draw the individual countries, they also learn where they are located. By the end of the curriculum, students should have a good idea in their minds of where each country in
Europe
is located; and they'll be able not only to locate it on a map, but draw a map of the continent themselves! The lessons are organized so that the student spends four days per week studying geography, with one country, or a few countries, studied each week.
This is what a general week's study will look like:
Day 1: Learn about the new country by reviewing its shape, and learning the major facts about it. Draw the country on the blank map included in the text.
Day 2: Review the country and draw it again on a new blank map. If any other countries have been studied, draw them on the map as well.
Day 3: Draw the new country again on a new map. Draw any other countries studied.
Day 4: Write a list of all the countries studied thus far. Draw them all on a blank map.
Timed drills and other activities which encourage the student to learn are also recommended. With this curriculum, your student will learn about the entire continent of
Europe
, including:
Iceland
Norway and Sweden
Russia
Georgia, Azerbaijan, and Armenia
Turkey, Cyprus and Greece
The countries of Eastern Europe
The Netherlands
Western Europe and the United Kingdom
and more!
WHAT WE THOUGHT OF
DRAWING AROUND THE WORLD: EUROPE:
This is the second of Brookdale House's, "The Geography Drawing Series" that we have used and we are definitely confirmed fans! This simple method is extremely effective in teaching geography to kids. I am amazed at how quickly and efficiently the
DRAWING AROUND THE WORLD
approach enables children and teens to learn geography! It really does seem effortless. In just a few moments per day, the student is able to reproduce on a map the shape of a country, plus outlines of all the countries around it.
As a mom, I also really appreciate how easy for me it is to teach this course. After a week of working on the lessons together, my child is able draw the geographical areas and list their names, as well. There is no stress in either the teaching or the learning of
DRAWING AROUND THE WORLD: EUROPE
.
In addition, this book/PDF is just gorgeous. Many of the pages are white (like the ones the students draw and the countries on repeatedly), but the reference maps themselves, which are used throughout the curriculum, are colorfully and beautifully rendered.
IN CONCLUSION:
I really, really love
DRAWING AROUND THE WORLD: EUROPE
! It seems to be everything that I've always looked for in a geography curriculum. Simply memorizing states, continents, and capitals was never really that enjoyable or useful for me, or for my child, in our homeschool. Now, though, we've found the product that makes geography learning simply a pleasure. . .not to mention, incredibly productive. I believe I'll eventually be able to graduate a student who is a competent geographer!
You may purchase
Drawing Around the World: Europe
from
Brookdale House
. I highly recommend it! Enjoy!
(This review was written by Melanie Reynolds, from
FinchnWren,
for the Schoolhouse Review Crew.)