One of my first and favorite books I purchased for my children when they were young was
The Tale of Peter Rabbit
. The story of a hungry bunny sneaking into Mr. McGregor's garden trying to eat his fill of stolen veggies and almost getting caught by the angry farmer is timeless. The series continues with
Peter Rabbit at the Farm
where Peter has adventures with the other animals.
Kinder Cottage Publishing
prints and sells ten of the Peter Rabbit series in beautiful hardback format in a 5" x 7" size that's just right for little hands for only $4.00 each.
Like fairy tales, many of the Peter Rabbit stories share the consequences of naughty behavior without moralizing upon it. They show rather than tell what might happen if a child chooses to disobey. In Peter's case, it was fairly serious! Peter was forbidden by his mother from going into the farmer's homestead. He goes anyway, of course. Upon discovery, Peter races around the farmer's land to escape and barely does so while losing his little blue jacket and shoes in the process. He has eaten so much and has had such a fright that he cannot even eat the delicious dinner his mother has made for him. The farmer even uses his jacket and shoes for a scarecrow!
From this mother's perspective, this teaches my children (without me ever opening my mouth) that disobedience has consequences that are not going to be fun. There is so much value in a story like this!
The second story we read and reviewed is
Peter Rabbit at the Farm
. This story is more about Peter off for a day of mischief and madcap adventures. He ventures onto Mr. McGregor's farm again, but not into the garden this time. He meets up with various animals, helps a few along the way, and makes some new friends. It is definitely more of a story rather than something meant to teach any particular lessons. The color sketches are all "lovingly preserved" in the books and are highly entertaining. Every two-page spread in this book has a full-color sketch similar to the covers you see here.
As noted above, Kinder Cottage sells ten Peter Rabbit titles in their series all with a different theme:
The Tale of Peter Rabbit
Peter Rabbit at the Farm
Peter Rabbit's Christmas
How Peter Rabbit Went to Sea
Peter Rabbit Goes A-Visiting
Peter Rabbit's Easter
Peter Rabbit's Birthday
When Peter Rabbit Went to School
Peter Rabbit and the Little Boy
Peter Rabbit and Jack the Jumper
They are best suited for children ages 3-9, but they can certainly be enjoyed beyond this range. (My eleven year old is enjoying reading them very much!) It is perfectly delightful to see her pouring through them on the couch just for fun. The reading level varies from book to book so make sure you check the samples for each book on the individual page for that book on their website.
Here is a reading level sample from page 10 from
The Tale of Peter Rabbit
:
The old Mrs. Rabbit took a
basket and her umbrella, and
went through the wood to the
baker's. She bought a loaf of
brown bread and five currant buns.
Here is a reading level sample from page 10 from
Peter Rabbit at the Farm
:
"You pesky little rabbit!" cried Pollie
Possum, "now see what you've done!
You've spilled all my nice persimmons, and
my poor old auntie won't have any fruit for
breakfast."
Of course Peter was sorry, and of course he
picked up all the persimmons and put them
back in the basket. He was so nice about it,
and so sorry that he had been rude, that
Pollie Possum forgave him and handed him
a big, fat, juicy persimmon all for himself.
As you can see, they vary quite a bit. Either way, they make great read alouds!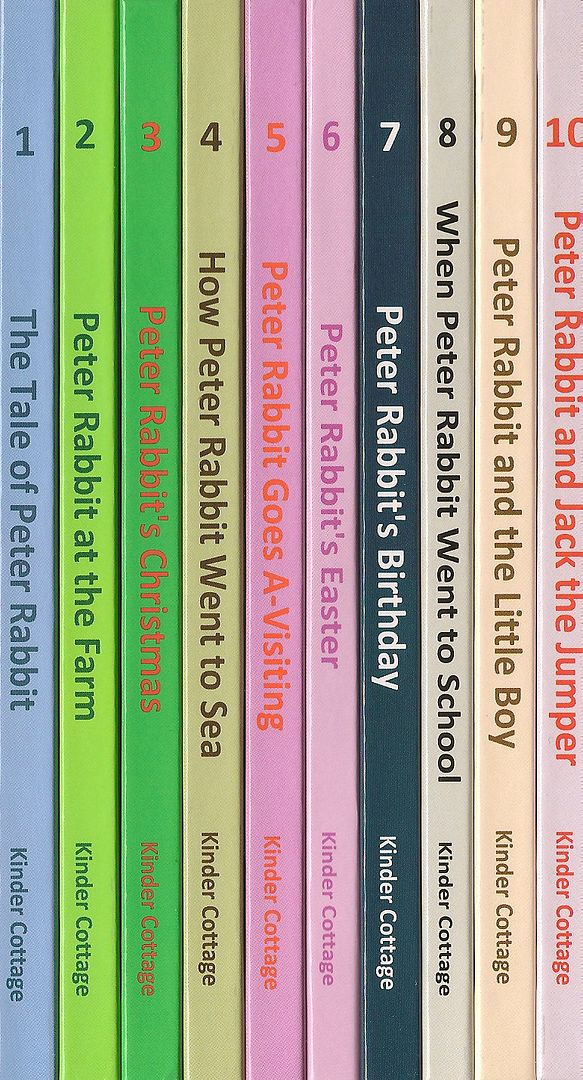 We have enjoyed these little books from
Kinder Cottage Publishing
. I really like that they are actually affordable hardbacks! That is a rarity in today's book market. I also very much appreciate the illustrations. They are wonderful and old-fashioned and entirely delightful. They help bring the story to life--especially for children that are not around farm animals. Couldn't you see your little one curled up on the couch with these little books in their hands?
If you want to read reviews of the other eight titles in the series, to see which ones your children are likely to enjoy, make sure you click the banner below! There will be many great reviews to choose from!