Do your kids need math fact practice? I know my little ones sure do! I was very excited that the
Schoolhouse Review Crew
was given the opportunity to review the
MathRider
program for grades 2-6.

Does the idea of going on a quest to find a magical object appeal to your children? Does mastering addition, subtraction, multiplication, and division facts for numbers 1-12 appeal to you? Read on!
MathRider is a downloadable software (for both Windows and Mac operating systems, with free updates for life) for $47.00. Once you have downloaded the software, and loaded it onto your computer, you will go to a Rider Menu.
You can see we have three logins here because of course, I just had to try it! You can have up to eight logins for one purchased product! You click your name and type in the password and immediately you arrive on the home screen:
Right away I liked that it was not busy and full of flashing lights and distractions. It is a simple scene of natural beauty and from here you can do many things.
* Practice Runs
* Start a Quest
* Retell the Quest Story
* Continue a Quest
* View your Stats
* View your Quest Progress Map
It is important to note that MathRider assumes that the teaching of the math facts is done outside the program. This is a program for math fact mastery.
Practice Run
When you click on Practice Run, it brings you to a screen that looks like this: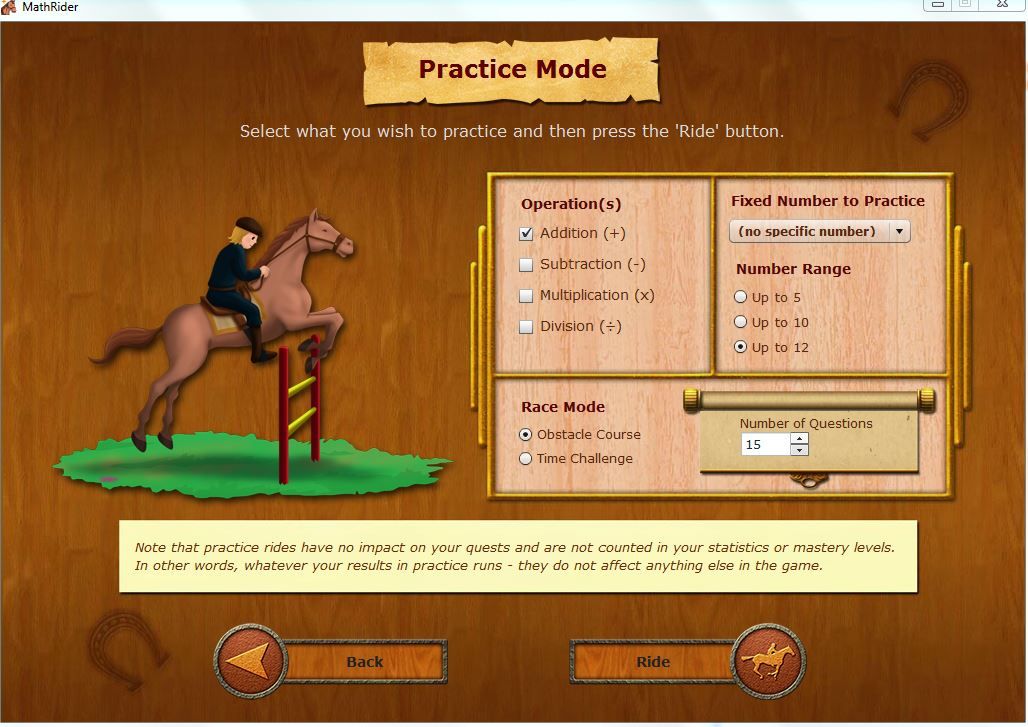 As you can see, you have a lot of control over how many problems you want your children to practice, which operations; including the number range. Once you have selected what you want, you just click, "Ride" and it begins. I like that Practice Run is offered so that when a child works on their quest, they do not get discouraged if their rider cannot answer the math fact questions quickly enough.
Start a Quest
When you begin a quest, you get to choose the operation (addition, subtraction, multiplication or division). From the
website
:
Your child is taken into a land of fantasy and quests. Living in the Land of Ray and riding a horse called Shadow, he or she will set out on various noble adventures. Riding across amazing, digitally matte-painted moving backdrops of distinct fantastic lands, they will accomplish their quest, be it finding magical flowers, returning gems to the elves or even rescuing a princess!
Each operation (addition, subtraction, multiplication and division) contains four quests, ranging from easy to master.
The four quests are the same across the four operations, however, the rewards are not. Every combination of quest and reward holds a different reward. The rewards are all animated according to how well the player answered the questions.
Your child watches a story:
And receives instructions:
And then goes on the quest through the Mathlands:
You child answer questions with the number pad on your keyboard and then hits enter. There is mild background music with no words that you can use or mute to your liking. The rider speeds up or slows down according to the ability and speed of the child. If you miss a problem, the rider stops before the obstacle it is to jump and the full problem with the answer is shown on the screen. It will start up after it stays on the screen for a few moments. Once you finish the first part of the quest, you are shown your score and are given the option to continue or to see your Quest Progress Map:
You can also View Your Stats:
You can see how well your child has done and what they need work on. I had two of my children doing this program and each one of them has improved in their math fact retention. One of them (above) has almost mastered this section and will move on once she has. She will also receive the "Master" reward (prize) within the game that is only obtained and shown on-screen to the student when they have done so.
I am extremely pleased with this program. I love the simplicity of it, the calm and friendly graphics, and the manner in which my children are learning their math facts and enjoying it. They don't complain about this program, and actually like using it. They will even go beyond what I have asked of them because they want to finish their quest and see what the reward is! This is high praise to me for a math program. If they enjoy learning and are retaining the math facts--what more can I ask, right?
To read what the other Schoolhouse Review Crew families has to say about
MathRider
, click the link below.