Thanks,
Miranda
, for this fun link-up!
1. I am excited to plant our nine other
EarthBoxes
next week. We have one planted with snow peas and it is growing well! This is what it looks like:
I can already taste the peas! There is naturalized mint all over the ground that we gather as-needed thoughout the growing season. Mint is really like a weed, but it is a weed I don't mind. I will take it over Bermuda grass ANY day of the week.
Will you grow a garden this year? What do you like to plant?
2. It is always exciting to me to see seeds growing. This is lettuce (that you can barely see):
and this is arugula just up out of the ground:
So many seeds look just like this when they pop up. Basil looks just the same, but this will end up being very tasty in our salads from our
salad tables
:
These will hold herbs and anything that will grow in a more shallow raised bed. I plan on savory, marjoram, oregano, two different kinds of basil, green onions, cilantro, and maybe some others. I have seven of these large squares to fill! If I can find some medicinal herbs, I will do those too.
3. We plan to have people over here on Easter Sunday after church for fellowship and fun. I love having people over - it makes me happy! Do you have Easter Sunday plans?
4. This year, after *many* years of wanting to buy one, I finally bought a Foxglove (Digitalis) plant. I never bought one because I know they are poisonous if eaten. Sometimes my children eat the herbs (basil and mint especially) straight from the garden, and I didn't want to chance it. I think my children are now old enough that I don't have to worry about it. I LOVE this flower - it reminds me of cool shady garden in an old country manor. I can't wait for it to flower.
Do you plant things just for their beauty? My garden area is mostly devoted to edibles, but I do have a few sections that are there for the sheer joy of the lovely. I have a whole gladiolus section that I never touch for the same reasons. :)
5. Spring bugs can be really interesting. This is a giant moth from our weekend away to the California Delta.
It was really very beautiful and quite large. I would say it was a little bit smaller than a dollar bill folded in half. I wasn't so brave as to touch it, but I admired it and took its picture. That will have to do. :D
If you want to link-up too, click here: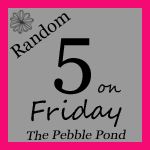 Have a beautiful weekend!