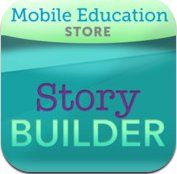 When I first discussed reviewing an Apple app, I thought,
OK, sounds good.
Who doesn't like educational apps, right? What I did not realize was how powerful the story behind this app would be and how interesting the app would be to use. Kyle Tomson, from
Mobile Education Store
, is the creator and designer of the
Story Builder
app. Story Builder works on any iPhone, any iPad, and on the newest iPod Touch (the ones that have a camera).
Kyle Tomson started down the app development road when he discovered there were no apps that would supplement the language needs of his daughter on the Autism spectrum. She was adept at learning visually, but did not do as well when taught verbally and she was heading into a school system that was mainly verbal teaching. He knew she would need her parents' help at home so they went looking and found nothing that would work—so he decided to create it himself!

Below is an interview with him where he tells the story of his daughter and describes three of his apps. It is well worth watching.
I loved hearing his experiences with his daughter because it is so similar to what we feel when we homeschool our children. I think it is incredible he created these apps to help his little girl!
He has actually designed several apps and they all build upon each other, but can also be used very well independently.
SentenceBuilder
,
Question Builder
, and
Story Builder
are three of his best. Story Builder is the one we are looking at today.
In its opening frame, Story Builder gives you (or your child) choices. This is what you see:
Student Name
Select Level of Play (Level 1, 2, and 3)
Question Reinforcement (On, Intermittent, Off)
Color Code Reinforcement (On, Intermittent, Off)
Story Introduction Reinforcement (On, Off)
Settings Instructions
Once you have selected the levels and other choices, you move into play mode. The play screen shows you a picture like this:
If you choose Question Reinforcement "On" then you will have the beginning of a sentence at the top to help them begin their response. Then, it audibly asks your child a question. In the photo above, it audibly asks, What was the man doing before the crash? Your child then can answer with the beginning "helping" sentence, The man was... Or, they can make up their own sentence entirely.

As you can see, the picture is descriptive so your child is really looking at a frozen scene of some event so there is a lot to think about visually. Your child then records his answer in his own words and they can play it back immediately. Then your child moves on to the next question and it builds on the story your child is building. Then after all the questions have been answered, they are put together to form a complete story that your child has created. It is replayed back in their own words all based on one picture.
So what does this do for your child? By hearing their own voice, they can see whether the story makes any sense—they learn about narrative within a story. Did what they say flow or do they need to flesh out that part of the story? Did they answer in complete sentences or not? If not, the story will not sound right. They learn to hear their errors and to correct them. For those of you that like to use narration within your homeschool, this is ideal! It is not just for special needs children either. Kids just love to hear themselves and to get to record their own stories and listen to themselves speak. There are 50 different story lines that your child can use and 500 audio clips of questions to help direct his narrative. At $5.99 for the iPhone and $7.99 for the iPad,
Story Builder
is an incredible teaching resource.
Do you want to see how it works? This is a great demo video that gives the whole system for you to see except this is what it looks like on an iPad:
The Schoolhouse Review Crew also reviewed his
Rainbow Sentences
app. You can find that and other reviews of Story Builder
HERE
on the Crew website.
Disclaimer: As a member of the Schoolhouse Review Crew, I received this product, at no cost to me, in exchange for my honest review. All opinions are mine.