Dive Into Your Imagination
is a company dedicated to expanding your knowledge of the ocean and its amazing inhabitants! Annie Crawley, author, underwater cinematographer, educator, producer, photographer, and motivational speaker, is the motivation behind this beautifully filmed DVD series.
Dive Into Diversity ($19.95)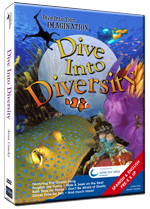 Dive Into Diversity includes eight videos that cover the great diversity of the ocean. Designed for Pre K through 3rd grade, these have wide application even beyond these levels.
The eight chapter titles are:
1. Night Diving on the Reef
2. Dive Into Diversity!
3. Be a Submarine Pilot
4. Swim in a Kelp Forest
5. Invertebrates of the Sea!
6. Coral Reef Living
7. Vertebrates: Animals with a Backbone
8. Wacky, Weird, Crusty Crustaceans
This is a beautifully filmed movie with appropriate music and Annie energetically explaining what we are watching. She is clearly educated about her subject matter and is just excited to share it. That is infectious!
Here is a sampling of the DVD for you to see just what I am talking about:
The DVDs are incredible, but that is only the beginning. She has created the most astonishing Educator Guides to go with them. These are the meat of her program and flesh out the specific topics in a most thorough manner. From the Dive Into Diversity guide:
How is this book arranged?
Each chapter of the DVD, Dive Into Diversity, is presented starting with an introductory question and answer section giving you the tools necessary to introduce and pre-teach important aspects of the video segment. Following each introduction are activity center concepts with extension ideas. At the end of the book is an appendix aligning each lesson with key educational standards and a master book list for suggested further reading.
1. General Concepts/Topics to Teach
2. Objectives
3. Character Education
4. Treasure Chest of Vocabulary Words
5. Required Materials
6. Anticipatory Set: Lead in Questions and Answers
7. Imagination Play Script
8. Classroom Activity Stations
9. Extension Ideas and Journaling
10. CCSS Connections
11. Book List Specific to tie Activities and Character Education
12. Closure and Follow-up
13. Plan for Independent Practice
14. Common Core State Standards
15. Transcript of DVD
16. Go Blue Environmental Section
This is in both the Pre K-K Guide and the Grades 1-3 Guides! There are wonderful age-appropriate activities and coloring pages for the children in addition to all these other areas of learning. These guides are HUGE and just filled with wonderful unit study opportunities for use with your children. I hope she puts samples on her website so you can see the depth of coverage.
If you have any interest in these at all, NOW is the time to buy any of these DVDs. If you mention the Crew or that you homeschool in the comments when you purchase, you can get the guides for free! They are listed at a price that is likely out of the range for most homeschool parents on the
Annie Crawley website
($299), so make sure you tell her you are a homeschooler!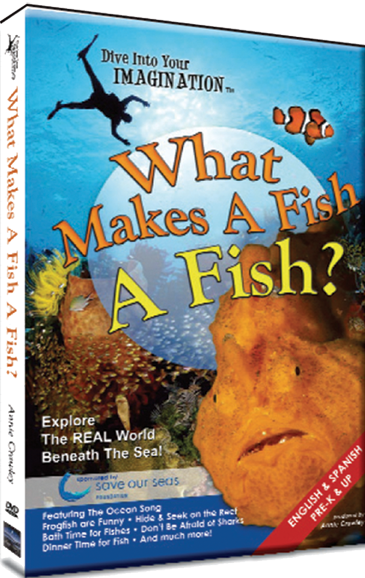 Also for Pre K through grade 3, this DVD defines a fish and then showcases all sorts of them! This DVD is 37 minutes long and filled with gorgeous cinematography. There are eight chapters in this DVD. Here they are:
1. What Make A Fish A Fish
2. Sea Anemones and Their Friends
3. Hide and Seek on the Reef
4. Frogfish Are Funny Looking Fish
5. Bath Time for Fishes
6. Don't Be Afraid of Sharks
7. Dinner Time for Fish
8. Fishes, Fishes, More and More Fishes
Here is a sample from the DVD:
This DVD also has an extensive Educator Guide to go along with it that offers the same coverage as the one mentioned above. There is rich learning to be found in these Educator Guides.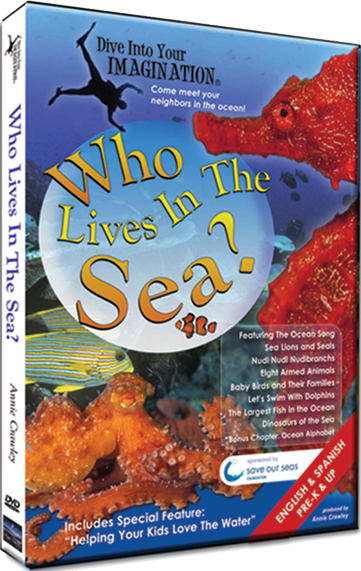 This DVD covers a wide variety of marine life and moves from smaller fish into some of the larger animals many of our children love. Here are the eight chapters included in the DVD:
1. Swim with the Dolphins
2. Playtime with Sea Lions
3. Nudi, Nudi, Nudibranchs
4. Dinosaurs of the Sea: Marine Reptiles
5. Eight Armed Animals
6. Living Forever Under the Sea
7. Marine Birds and Their Family
8. The Largest Fish in the Ocean: Whale Sharks
Here is a sample chapter to view:
This DVD also has an incredible 300 page guide that goes right along with the DVD to flesh out the topics and make the information readily accessible to your children--and to you!
Don't these DVDs and Educator Guides sound great? Don't take my word for it, check out what the Crew has to say about them
HERE
.
And don't forget that if you are interested in ordering any of the DVDs from
Dive Into Your Imagination
(only $19.95 each) you can get the guides for free (a $300 value!) just by mentioning that you homeschool!

Disclaimer: As a member of the TOS Homeschool Crew, I received this product, at no cost to me,
in exchange for my honest review. All opinions are mine.