AIMS Education Foundation
has a huge selection of homeschool-friendly products available in high quality softcover books as well as downloadable resources. AIMS (
A
ctivities
I
ntegrating
M
athematics and
S
cience) began in 1981 from a grant from the National Science Foundation and their product line as increased as the years have gone by. Here are some of the categories with links directly to the specific resources on their site:
Activity Books
E-Activities
Essential Math
Classroom Sets
Labs, Kits, & Component
Literature Links
Math Resources
Science Resources
State-Specific Science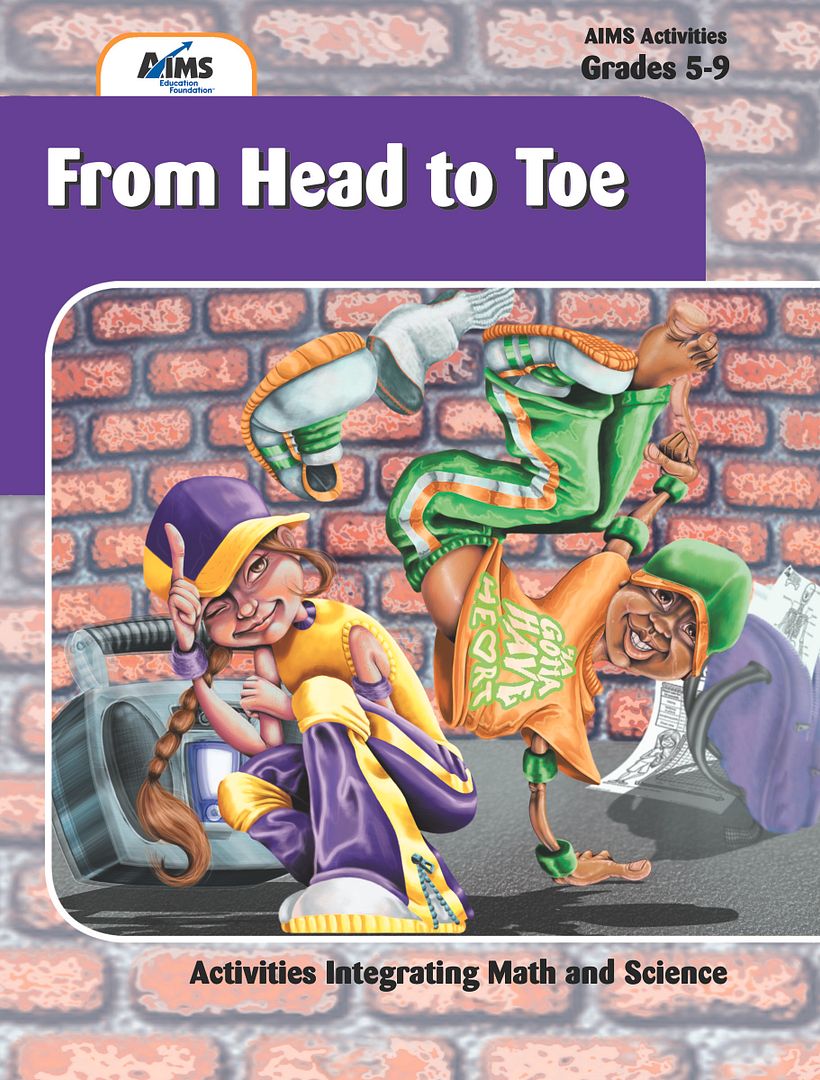 The Homeschool Crew was able to take a look at several products, and I am going to share about From Head to Toe. This sturdy softcover comes with a CD that has all the book pages in printable format for ease of use in your classroom. Their copyright is a liberal one too:
A person or school purchasing this AIMS publication is hereby granted permission to make up to 200 copies of any portion of it (or the files on the accompanying disc), provided these copies will be used for educational purposes and only at one school site. The files on the accompanying disc may not be altered by any means.
I think that is pretty amazing--and well worth the $24.95 price tag.
From Head to Toe, for grades 5-9, is as the title suggests, all about the body. It covers the following systems: nervous, circulatory, respiratory, digestive, urinary, and musculoskeletal. In addition, it gives instruction in all the sensory organs: taste, sight, sound, touch, and scent.
If you like creating mini-books, identifying and coloring diagrams, learning from games, creating small models, doing experiments, and general hands-on type of learning, you will love this curriculum! It is filled with all sorts of activities to make the subject of our bodies come alive.
They also have these neat sections within the books that help you connect the information students are learning through From Head to Toe. These sections are called different things, but they all have "Connecting Learning" above the questions. For example, after the section on the skin, these are two of the several questions asked:
1. Which of the body parts that we tested did you predict would be most sensitive to touch? Why did you think this?
2. How did the results compare to what you expected? Did everyone have the same results?
Throughout the book, they ask good questions that make the student evaluate what they are reading and learning.
The book is both a student and teacher book. The black and white student pages, to be truly utilized, should be copied from the CD or the book (it is much easier via the CD!) The sections for the teacher are thorough and will not leave you unprepared or in the dark about your subject.
The teacher section has these subsections: Topic, Key Questions, Learning Goals, Guiding Documents (based on standards and benchmarks for education for this subject), What Type of Science, Integrated Processes, Materials, Background Information, Management (which is how to ultilize the printed materials they give you for the hands-on portion for the students), Procedure, Connecting Learning, Extensions (other information pertaining to the subject matter), Internet Connections (links for more on the subject), and Curriculum Correlation. That is a lot of information--and that is only one small section of the book. All this information is there for each topic you cover so you never feel unprepared. Here is a link to sample pages.
From Head to Toe from AIMS Education Foundation is affordable, reusable, and easy to implement. I suggest you check out what the other Crew families had to say about it and see if it is right for your homeschool!

Disclaimer: As a member of the TOS Crew, I received this product, at no cost to me, in exchange for my honest review.
All opinions are mine.