This is a blog post written by one of my dearest friends. This is her real story and experience with ALEKS, the online math program.
Homeschooling has been a real struggle for us since I have had to go back to work. For seven years now I have been schooling five days a week, while answering phone calls for my pony ride/petting zoo business, and training horses all afternoon. On the weekends I have spent all Saturday at events where I have to maintain a high energy combination of Barney and Mary Poppins, all while making sure everyone stays safe with the horses. On Sunday, we rush to church only to top the day off at events in the afternoon. Monday starts the schedule all over again. Not to mention all of the regular chores involved on a working ranch; milking, mucking, and feeding.
Several times we contemplated selling the ranch, but we would have come out worse, with no way to make money to pay the bills. Several times we looked into "help" only to find the "help" expensive and not particularly helpful. Meanwhile, several of my children were dropping further and further behind, and by this I mean by several years. After a trip to the doctor and the discovery that my endocrine system was in a meltdown, I knew something had to change. The only option I thought I had was to send the kids to public school.
One morning, I was sorting through emails, completely defeated. I was sick of hearing all of the homeschool "success" stories; and sick of the people around me wanting "this" or "that" from me. I was sick of people offering me "advice" when they had no clue as to what I was going through, sick of the complaints from other people that felt that I "should" be more that I was. I was sick of life. I felt I had failed miserably, as a homeschooler, and as a mother. The only option was public school, at least then I could get the rest I needed to heal, and get on top of the mess. I came across an email from ALEKS offering a free trial for EACH of my kids. I enrolled them all.
With all of my children enrolled and working on tests, I found out that the situation was worse than I expected. My best student was four years behind their public school counterparts. Since it was September and I had to have the kids at home for our extremely busy season of October, I decided to just let them use the free month and then I would cross the bridge of enrolling them when October's busy face was gone.
The most amazing thing happened. Within two weeks of ALEKS, and the artificial intelligence and the unique way of assessing and explaining, three of my kids were 80% done with their course work. ALEKS was able to quickly figure out what the kids knew and what they did not know. Then it worked them hard on the things that they needed to master, while cycling the information that they did know just enough to keep it fresh. ALEKS also goes back over any prerequisites to a new topic before teaching something to make sure they are properly prepared.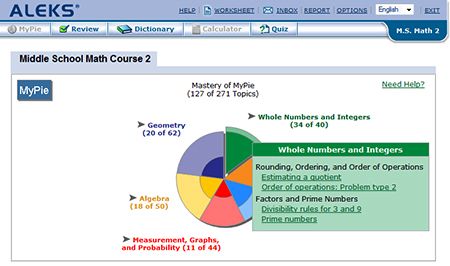 (The student's "pie" chart showing their progress.)
Another one of the aspects that has helped with my younger kids is called Quick Tables. This has no "drill and kill" aspect but instead, in a fun way, makes sure the child knows the basic math facts. I have my kids do it at least ten minutes a day until they are done with them all.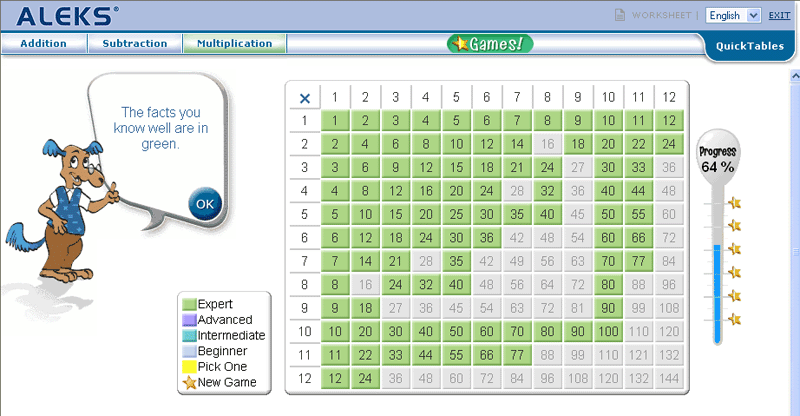 The best things about ALEKS is that when a child does not understand something, they explain it again... and again.... and again. No one gets upset or frustrated, because the explanation is there.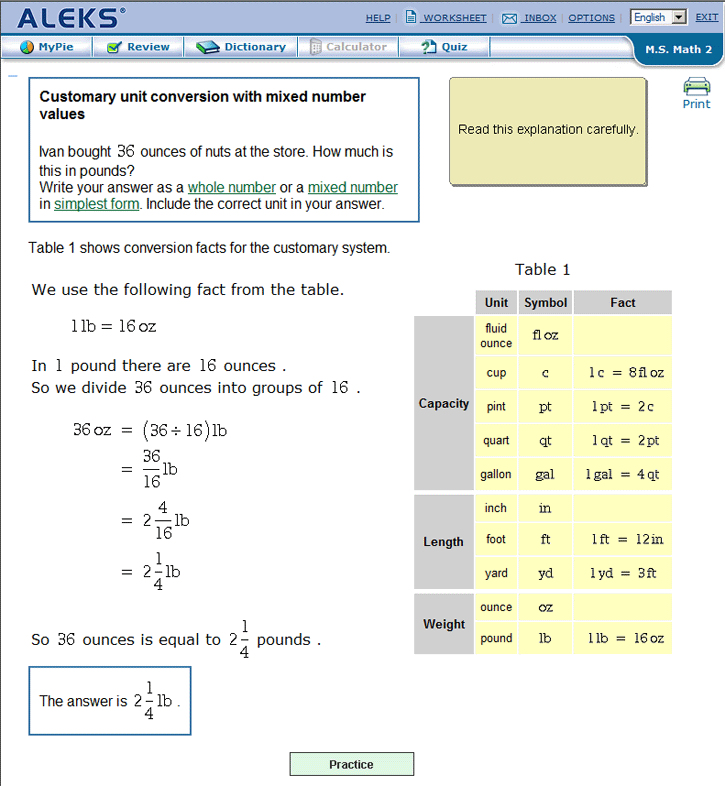 With all of the things I have going on in my life, follow up is very difficult if not impossible and I was afraid ALEKS was going to end up being one of those things that just gets lost in the shuffle, rendering me, once again, unable to know what is going on and thus fail. Not so here. ALEKS sends me a progress report weekly, and even that can be adjusted to different amounts to help keep the parent apprised of their child's progress. ALEKS even determines what the child needs more work on and makes worksheets appropriate for that child, and then emails you the correction sheet.
ALEKS offers all this, at a fraction of the cost of a tutor, and all without the drama of another human being in your house. Needless to say I have enrolled all of my school age children in ALEKS and benefited enormously from their family discount and their pre-paid discounts.
Four months in to ALEKS, three of my children have already worked through two full years of math and are well on their way to being "caught up".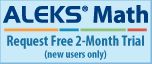 She is a paying customer of ALEKS and wrote this review for me because the program has changed their lives so much. She received no compensation for it and her thoughts are her own.
Read what the TOS Homeschool Crew had to say about it HERE.