Who doesn't know the rest of that song? The monkey chased the weasel...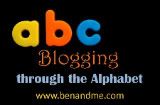 It makes me think of the ABCs and that's what I am gettin' to. I am blogging through the ABCs with Ben and Me. I just love that homeschool mama!
Since most of you are homeschoolers, you will be familiar with the teaching the first letter of the alphabet...A. :)
A is for AMAZING. That is what my husband is. Not only is he a wonderful provider, but he supports and loves me and our children. He is gifted in a thousand different ways, but he is really gifted in woodworking.
He built these beautiful B is for Bookshelves for a friend's home:
Here is a close-up shot of his work. Isn't it lovely?
And of course B is for Books. How can a homeschooler leave that out? We often read the best books when we study history, but I don't limit myself to just school hours when it comes to historical fiction. Have you ever read the Cadfael mysteries? It makes you feel as if you are right in the middle of the 12th century. That kind of book really makes reading enjoyable.
C is for Creative. My youngest girl is artistically inclined and I love to see what comes through her mind and out via her pencil.
We studied the John Singleton Copley painting of Paul Revere from this very resource on Tuesday and this was her interpretation of the painting:
Don't you just love what your children come up with? I feel so blessed to be able to witness it. :)
D is for Dragon! See the results of our dragon co-op day. These are from my youngest two. I love the differences!
E is for Eggs because we have a lot. Our chickens keep makin' em! I love the variations in color. Who needs Easter eggs when you have chickens at home! :)
F is for Fine Arts we study here at home. The desert was our topic and landscape our goal. Gorgeous colors, don't you think? Art Lessons for Children is our DVD art teacher.
G is for Great Things like birthdays of note. 13 is one such year and we celebrate our John this month! (He now surpasses his eldest sister in height by a mere 4 millimeters, but those are highly prized millimeters! He has waited a LONG time for that. :D)
H is for Home. I'm so thankful to have one. I can't imagine life without this beautiful place we get to rest our heads, school together, and share our lives with one another. We are grateful for the blessing from the Lord. This, however, is what makes my home a home: